Back to top
What They Are Saying
Truly nice! We stayed longer than planned smile emoticon and missed other evening plans. Thank you for great time
Linda Piro
Plaza Bar
Re: The Spirit of Cabaret | Dinner + Show: Just wanted to let you know how much we enjoyed your show this past Saturday. Really top notch. And what I especially liked was that there were songs we'd never heard before - I liked the new material. And Mr Piano was great - nice choice.
And you looked lovely, as always. Thanks for a really nice evening out and a great dinner as well. Looking forward to the next one.
~Chris
San Diego
Re: The Spirit of Cabaret | Dinner + Show: We All loved the Evening...it was most Wonderful!!! In every way! We look forward to Special evenings of more Musical Journeys and warmth!
Donna Scheerer
San Diego
Karen, Susan and I visited last night so that I could renew a friendship with David, but your really professional performance was a real bonus. In fact, had I known you were so talented we would have made the trip in any case. You will most certainly see us again and next time we'll bring some friends. I can check your web site to see where you will be next month.
Robert Vendeland
Well my friend that came with me texted to say she had "Night and Day" stuck in her head and was humming it all day after hearing you sing it. This is who I go see bands like Pearl Jam with....I even felt the need to ask her if she knew what Phantom of the Opera was....you made a lasting impression and opened eyes ( and ears!) to something completely off her radar!
Christina Jacobs
San Diego
Many thanks for your excellent performance last evening in The Midnight Sun Lounge . . . It was certainly a polished performance and it was a pleasure to listen to your playing and vocalizing. The reaction of the audience was evidence that the evening was thoroughly enjoyed by everyone.
Colin Parker, Cruise Director
Cunard Royal Viking Sun
Karen:  THANK YOU for yet another delightful Evening With Karen.  David and I so much enjoy your events.  What  HOOT, having you explain how we met at the Patsy Cline show.  How lucky we were that night.  In the lobby as we were leaving, Jerome from Palm Springs was heading for the head.  I told him San Diegans call summer visitors from Arizona "Zonies."  I said I will call him a "Palmie."  He laughed and said YES – I LIKE IT.
 
I told the gal who was with Gaetano that my grandmother's name was Gaetana.  She died one week before I was born.  My aunts pressured my folks to name me Gaetana.  My mother, whose parents were from Prague, said NO WAY.  Back then it was "Be American."  So I got named Lois.  Gaetana would have been so much more INTERESTING.  Keep Kewl... 
Lois M_
Plaza Bar, Westgate Hotel
Thank you Sher Krieger for introducing me to Karen. I think she is amazing . . .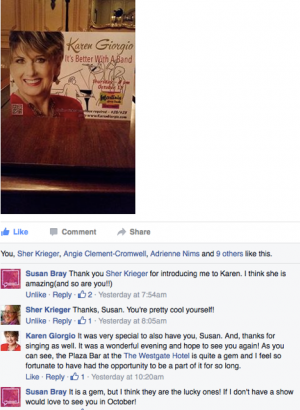 Susan Bray
Plaza Bar
Hey Karen, I just played your "A Most Unusual Christmas" album while I was going through my e-mails and was able to really listen without interruption ... It is really fabulous!! ... So many great numbers and love the arrangements. Girl, you sound great! I know I've played it many times before but you know me, always multi-tasking and you don't always 'get it' when you're only half listening. Simply put -- Love it!
Cathy
Sunday, February 19, 2012
What a delightful program, once again. We sure do enjoy your once-a-month concerts. Looks like MORE AND MORE other folks do too – last night every seat was taken ... <br />Best wishes for a song-filled 2017. - Lois M
Lois Mulcahey
Westgate Hotel • Plaza Bar