Back to top
What They Are Saying
'What fun evening we had with you!. You are such a great entertainer!"
Catherine Hird
Thank you Sher Krieger for introducing me to Karen. I think she is amazing . . .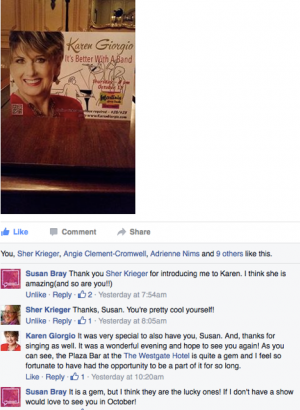 Susan Bray
Plaza Bar
What a wonderful evening. 

You were radiant at the keys!

And your vocal renditions were so touching, exquisite vocally, and so deeply you: emotionally rich, gracefully kind, and movingly engaging.

I loved the way you so artfully handle the audience and how you beautifully gave back each request.

Karen at the Keys is a treasure for the Westgate.
Loren Salter
Westgate Hotel Plaza Bar
--- and you've got them, . . . so MANY magic moments, far & wide, Asia & elsewhere. I always love your shows as you talk about your vast travels, making the patter so interesting to all your listeners as well as hearing your great singing. xoxo
Claudia Sussman
Cabaret Artists in the Spotlight
Good Day Karen, Thank you for the "Pennies From Heaven", it makes the world smile inside! You & Glen are amazing, the setting and Dave's special effects made us feel like we were at a nightclub reminiscent of the 40's & 50's! What a great show; these songs are timeless! Thank you, XX's & OO's
Howard Kubicki & Norm Smith
Greetings Karen! Randall and I had such a GREAT TIME SUNDAY NIGHT! Many thanks for a fabulous show and I really appreciate you sharing "IMAGINE" with your enthralled Westgate audience!!! Hugs to you and David and have yourselves a special ST PATRICK'S DAY tomorrow! Blessings and hugs, Gigi aka Grammy
Gigi
Plaza Bar
Karen:  THANK YOU for yet another delightful Evening With Karen.  David and I so much enjoy your events.  What  HOOT, having you explain how we met at the Patsy Cline show.  How lucky we were that night.  In the lobby as we were leaving, Jerome from Palm Springs was heading for the head.  I told him San Diegans call summer visitors from Arizona "Zonies."  I said I will call him a "Palmie."  He laughed and said YES – I LIKE IT.
 
I told the gal who was with Gaetano that my grandmother's name was Gaetana.  She died one week before I was born.  My aunts pressured my folks to name me Gaetana.  My mother, whose parents were from Prague, said NO WAY.  Back then it was "Be American."  So I got named Lois.  Gaetana would have been so much more INTERESTING.  Keep Kewl... 
Lois M_
Plaza Bar, Westgate Hotel
. . . thanks again Karen…it was wonderful…you sounded terrific and I was so happy to be part of your night! And when I am down your way absolutely will come sing with you again!!! . . .
MaryJo Mundy
Plaza Bar
Hi Karen, Once again you provided a wonderful evening of entertainment. We really enjoyed the entire show! I really liked your duet with a young "Karen" It was good to see Lisa and we really enjoyed her performance. Thank you for keeping the music alive in San Diego with such style and talent.
Kathy & Jerry
Truly nice! We stayed longer than planned smile emoticon and missed other evening plans. Thank you for great time
Linda Piro
Plaza Bar