Back to top
Second Sunday (First Sunday for May)
Second Sunday (First Sunday for May)
Date:
Sunday, May 3, 2015 - 7:00pm
"KAREN AT THE KEYS" Westgate Hotel Plaza Bar 7-10. Because Mothers' Day is the second Sunday in May, Karen At The Keys will be the First Sunday but only in May.  I want all mothers' to enjoy their families on the second Sunday and enjoy my music on the first Sunday.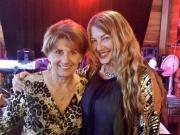 This month Adrienne Nims, San Diego's great saxophonist will be joining me.  She has national recognition having toured with a lot of major bands. She is a feature in my latest DVD, 5 Times A Lady and will be in my upcoming The Spirit of Cabaret dinner show.  Check her out on Facebook and at her website AdrienneNims.com.  Adrienne also plays flutes and many more global indigenous instruments.
Bring your friends, requests, and get ready for an entertaining evening of music and surprise guest singers. NO COVER!! Great food and bar service. Come early for Happy Hour prices 'til 7:00....and a good spot to enjoy the music!

2nd & Broadway, San Diego
No Cover!! Discounted parking in garage with validation.
Please join all of us for an incredible evening of a potpourri of music and great fun in the intimate setting of the Plaza Bar.  There truly is nothing else like this in San Diego!  And all of this for the price of delicious food and cocktails.