Back to top
Second Sunday in December - Karen At The Keys
Second Sunday in December - Karen At The Keys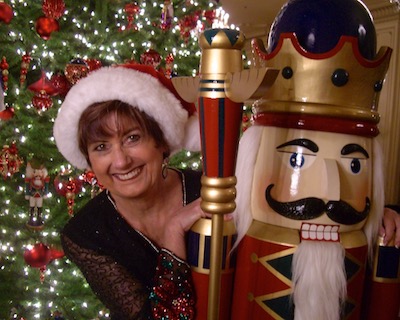 Karen's Christmas In The Plaza Bar
Date:
Sunday, December 9, 2018 - 7:00pm
Karen Giorgio &

All-Star

Cast
Brings You Christmas in The Plaza Bar

THIS NIGHT IN DECEMBER
WILL BE A NIGHT TO REMEMBER

I'm excited to have some fabulous local talents joining me to bring you some Holiday Cheer! This has become an annual tradition for "Karen At The Keys" and not to be missed!

The highlight of the evening will be our young rising stars Abraham German, Grace Taylor, Emma Filley, and Alex Wolfe. Already, at the onset of their careers – ages 9 - 16, they have each starred in many musical theater productions. … How impressive is that?

… plus ... (drum roll please) ... 
Judge Vinny DiFiglia! 
It wouldn't be Christmas in the Plaza Bar without them.

Meet Our Star Guests




Abraham German




Nine-year-old Abraham German, has appeared in commercials: Chuck E Cheese, Wal-Mart, Jerome's; Modeled for Disney, Capital One, Petco.  His favorite theater performances include being Zalmia in the Old Globe's "A Thousand Splendid Suns" and, most recently, Les from CYT's "Newsies". He's sung in benefit concerts throughout San Diego. Abraham's dream is to be a Broadway and Hollywood Actor, Director, and Producer!

*****

 




Grace Taylor




Grace Taylor is "Annie" in the musical "Annie" currently at Star Repertory Theatre in Escondido. She has also performed in "Legally Blonde" and a variety of shows in Hawaii including "Brownbags to Stardom" and "Mango Jam". Grace has been singing and dancing since she was three years old and attends Madison Middle School in Oceanside.

*****




Emma Filley




Emma Filley, at 16, has already performed in over 30 musical theater productions throughout San Diego County. She  was recently Katherine in Disney's Newsies. Favorite roles include Mary Lennox in Secret Garden, Becky Thatcher in Tom Sawyer and Leslie Burke in Bridge to Terebithia.   When Emma is not on stage, she is working on pursuing her dream career in TV and Film.

*****




Alex Wolfe




Alex Wolfe, a 16-year old Junior at River Valley Charter School. Alex has performed in over 25 Musical Theater Productions! He enjoys playing his guitar and filming movies with his friends. Do we see a brilliant musical career coming on?

*****

Don't miss this very special evening where friends meet friends, new friends are made, and music is the main event!!! We will also have a little Christmas music plus some of your favorite songs.
"KAREN AT THE KEYS" Westgate Hotel Plaza Bar 7-10.  Bring your friends, requests, and get ready for an entertaining evening of music and laughter and high spirits. As always – Great Food, and Great Bar Service . . . and Great Music!

2nd & Broadway, San Diego
No Cover!! Discounted parking in garage with validation.
Please join all of us for an incredible evening of a potpourri of music and great fun in the intimate setting of the Plaza Bar.  There truly is nothing else like this in San Diego!  
And all of this for the price of delicious food and cocktails.