Back to top
Second Sunday in December - Karen At The Keys
Second Sunday in December - Karen At The Keys
"We Need A Little Christmas"
Date:
Sunday, December 11, 2016 - 7:00pm
Location:
Westgate Hotel, San Diego, CA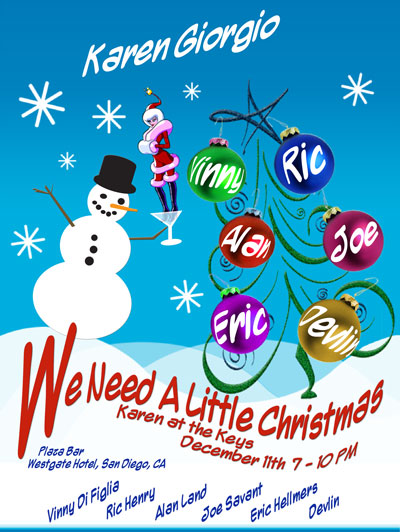 I'm excited to have some fabulous local talents joining me to bring you some Holiday Cheer! This has become an annual tradition for "Karen At The Keys" not to be missed!
Singer-director RIC HENRY, Actor-singer Eric Hellmers,  Actress- songstress DEVLIN, singer-performer JOE SAVANT, singer-guitarist Alan Land, plus (drumroll please) Judge Vinny DiFiglia!!
And…there could be some surprises, as well!.
"KAREN AT THE KEYS" Westgate Hotel Plaza Bar 7-10.  Bring your friends, requests, and get ready for an entertaining evening of music and surprise guest singers. NO COVER!! Great Food, Great Bar Service . . . and Great Music!

2nd & Broadway, San Diego
No Cover!! Discounted parking in garage with validation.
Please join all of us for an incredible evening of a potpourri of music and great fun in the intimate setting of the Plaza Bar.
There truly is nothing else like this in San Diego!
And all of this for the price of delicious food and cocktails.