Back to top
Second Sunday in April - Karen At The Keys
Second Sunday in April - Karen At The Keys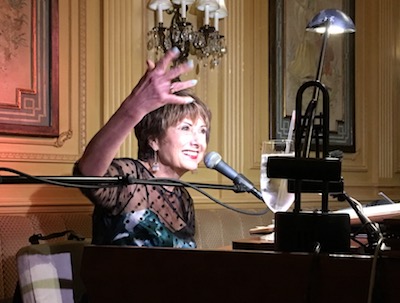 Special guest: Salvadore Padilla
Date:
Sunday, April 8, 2018 - 7:00pm
Location:
Westgate Hotel,San Diego, CA
Karen Giorgio with
San Diego's own Salvadore Padilla

THE BARITONE WITH THE VELVET VOICE

Salvadore Padilla – My April special guest – is a really special Baritone with a velvet voice.  A professional opera singer trained in Spain, he appeared with José Tamayo's Antología de la Zarzuela in Israel, and in many countries of America, and Europe including The Expo Sevilla 1992 with Plácido Domingo. Locally, Salvadore is a director at the Tijuana Opera.

Sound impressive? What I love about Sal is that he's so versatile … so entertaining … and – down to earth. He can sit down at the piano and bang out the American song book, show tunes, and the hippest Latin melodies. Sal has accompanied me – and I have accompanied him on many occasions including here at the Plaza Bar as many of you will happily recall.

 




Salvadore Padilla




You will enjoy this exciting evening of song and spirits. And … we will be experiencing, for the first time, the "new" Plaza Bar. It got a face lift, as in a paint job and was closed for 2 weeks. which gave me the opportunity to entertain in the Westgate Hotel's Grand Lobby. It was a lot of fun with Robyn Spangler and Guitano. I was nervously keeping my eyes on the beautiful, giant chandeliers above my audience as I sang music from the Phantom of The Opera.




Salvadore Padilla Mariachis



"KAREN AT THE KEYS" Westgate Hotel Plaza Bar 7-10.  Bring your friends, requests, and get ready for an entertaining evening of music and laughter and high spirits. As always – NO COVER!! Great Food, and Great Bar Service . . . and Great Music!

2nd & Broadway, San Diego
No Cover!! Discounted parking in garage with validation.
Please join all of us for an incredible evening of a potpourri of music and great fun in the intimate setting of the Plaza Bar. There truly is nothing else like this in San Diego!  
And all of this for the price of delicious food and cocktails.