Back to top
What They Are Saying
'What fun evening we had with you!. You are such a great entertainer!"
Catherine Hird
Thank you Sher Krieger for introducing me to Karen. I think she is amazing . . .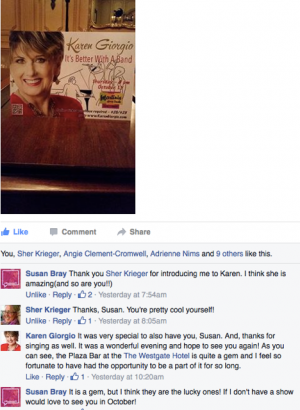 Susan Bray
Plaza Bar
Hi Karen, Once again you provided a wonderful evening of entertainment. We really enjoyed the entire show! I really liked your duet with a young "Karen" It was good to see Lisa and we really enjoyed her performance. Thank you for keeping the music alive in San Diego with such style and talent.
Kathy & Jerry
What a delightful program, once again. We sure do enjoy your once-a-month concerts. Looks like MORE AND MORE other folks do too – last night every seat was taken ... <br />Best wishes for a song-filled 2017. - Lois M
Lois Mulcahey
Westgate Hotel • Plaza Bar
What a wonderful evening. 

You were radiant at the keys!

And your vocal renditions were so touching, exquisite vocally, and so deeply you: emotionally rich, gracefully kind, and movingly engaging.

I loved the way you so artfully handle the audience and how you beautifully gave back each request.

Karen at the Keys is a treasure for the Westgate.
Loren Salter
Westgate Hotel Plaza Bar
Re: The Spirit of Cabaret | Dinner + Show: Thank you for a most entertaining evening. The meal was elegant and delicious and the show was wonderful. I loved your song selections and your delivery told the story most effectively. Thanks for a great evening.
Lynn Davis
San Diego
Re: The Spirit of Cabaret | Dinner + Show: Just wanted to let you know how much we enjoyed your show this past Saturday. Really top notch. And what I especially liked was that there were songs we'd never heard before - I liked the new material. And Mr Piano was great - nice choice.
And you looked lovely, as always. Thanks for a really nice evening out and a great dinner as well. Looking forward to the next one.
~Chris
San Diego
Greetings Karen! Randall and I had such a GREAT TIME SUNDAY NIGHT! Many thanks for a fabulous show and I really appreciate you sharing "IMAGINE" with your enthralled Westgate audience!!! Hugs to you and David and have yourselves a special ST PATRICK'S DAY tomorrow! Blessings and hugs, Gigi aka Grammy
Gigi
Plaza Bar
It was a wonderful night of music and good friends! I love the variety and surprises of the evening in such beautiful atmosphere!
Donna Scheerer
San Diego
You are a delightful entertainer, and I can see why you have such a devoted following.
Chris Hassett